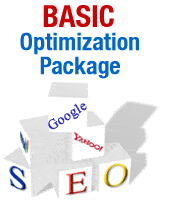 SEO Starter Pack
Get your optimization started with this SEO Starter Pack. Optimize and submit your site in one!
Uncover Powerful Google Keywords!
Optimize Your Website Code
Build New Links Each Month
Google Listing in 48 Hours
Was: $195 / month
NOW: $125 / month
Save with This Effective Optimization Combo
By combining our most popular optimization services in one, you save every month! This affordable solution means you can have professional website optimization without the expensive price tag.
An Affordable Solution to Increase Your Free Traffic
The Basic Optimization Package takes care of all your organic search engine optimization which will help increase your free search engine traffic. The package combines keyword analysis, code optimization and submission services to pave the path for your search engine success.
Optimize Your Website Code for the Most Popular Keywords
The Basic Optimization Package features a unique two step process to optimizing your website for a higher ranking in regular search results.
Firstly, we identify keywords that will drive the most traffic to your site using our Keyword Analysis service. Then we use these keywords to optimize all your important meta tags, producing keyword-rich title tags, description tags and keyword tags. We also optimize 3 of your image ALT tags and 3 of your Link Tags to increase your code's keyword density!
Get Included in Google in 48 Hours
Google is the undoubted king of search engines and powers 50.7% of all searches in the United States (comScore, May 2007). Inclusion in Google is vital for website success which is why the Basic Optimization Package includes G-Boost for guaranteed Google inclusion in 48 hours.
Tell us about your project
Let us help you get your business online and grow it with passion
Our team of professional SEO experts is the perfect partner for a successful business partnership.
"Having many years of SEO experience ourselves, we know how hard it is to come up with a successful SEO strategy and an effectively integrate it within our work-frame. As our business continues to grow year after year, keeping track of our SEO strategy became very time-consuming and reduced our ability to focus on our core business."
Georgina Nicholls
Global Amerex